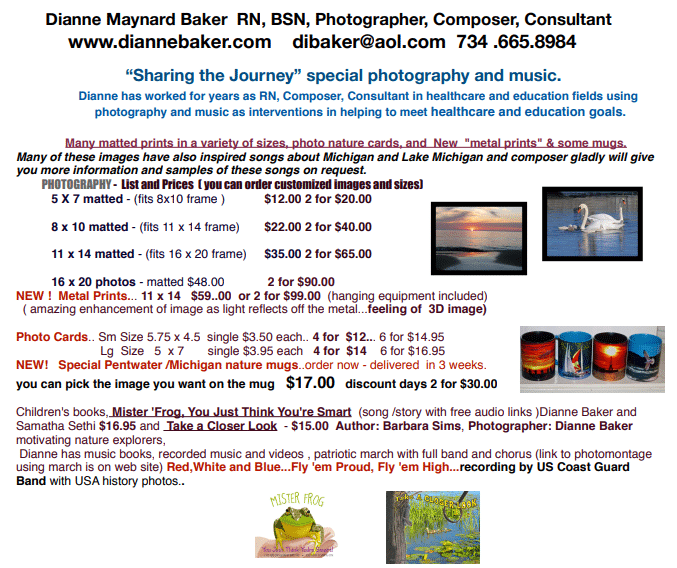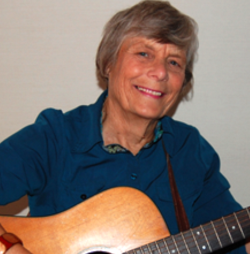 Dianne Maynard Baker:  BSN – U.of Michigan, RN, Composer, Photographer,Consultant ,Clinician
+1 734.678.0243 | diabaker@aol.com
I work to meet specific goals in fields of education, healthcare, ecology and following Dr. Richard Louv's work and effort in getting the word out concerning the importance /need for ALL Kids To Be Connected to Nature
so we can prevent "Nature-Deficit Disorder" ( Louv's coined phrase after many years of researching and then documenting his findings in 9 books) My nursing education and background of a variety of experiences has empowered my drive to find ways to help people and share in many ways what I've learned along the way. I have used music and photography as interventions to help meet many goals and lessen the stress in their lives. I feel I have produced/published a wide range of creative work inspired by many who shared their love of God, love of nature around us and our beloved United States.
It was sunrise in the little Village of Pentwater, nestled along the Great Lake Michigan and its sandy shores. The families who lived in the Village —and those who visited every year—loved to see everything come to life at the first sign of sunlight, as it peeked through the forests, rising high over the Village Green and setting like a fireball into the Great Lake at the end of day, painting the beaches and the sky with every color in the rainbow.
But there was something very special about the little Village that only a few families knew—and only they were able to see. Hidden away, very quietly, along the lake shores, sand dunes and forest trails, lived the characters of a story yet to be told. A story as unique as the imagination within every child; a story that will inspire them to re-discover familiar natural surroundings and imagine what could be… if they would stop and Take a Closer Look!
Any image can be printed as matted photo, metal print, greetings card, or mug